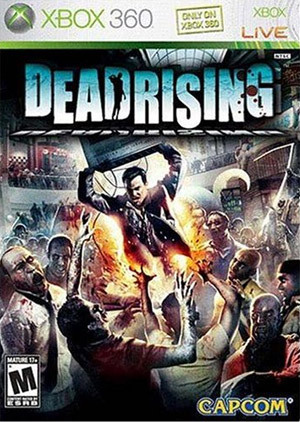 Dead Rising
I just realized on my last post on the Dead Rising Music Video that on related posts I saw Dead Rising for the Wii but not the original game! Yes the original 360 version of Dead Rising was not in my games list and this was something that NEEDED to be remedied. How can I have such a classic just blatantly overlooked?? I feel bad about adding a game this old but I do like to keep our listings on zombie items you can buy as complete as possible.
One of the more fun 360 games to hit the early lineup and the one I STILL haven't gotten the Zombie Genocider achievement on. For those of you wondering it's for killing at least 53,594 zombies in 1 sitting, or the population of the town.
"Dead Rising follows the harrowing tale of Frank West, a freelance photojournalist after the scoop of a lifetime. In a small suburban town that's overrun by zombies, he escapes to the local shopping mall, thinking it will be safe. Now it's a standoff, with zombies unable to get Frank, but him unable to get out & escape. Fortunately, he's got an entire mall at his disposal. Utilize everything you can find to fight off the flesh-hungry mob and search for the truth behind the horrendous epidemic."
Snag a copy dirt cheap today at Amazon
Category: X-Box 360
Stuart Conover
is the editor of Buy Zombie, a blogger, published author, geek, entrepreneur, horror fanatic, and gamer. Resident slayer of the undead and all around zombie fanatic.