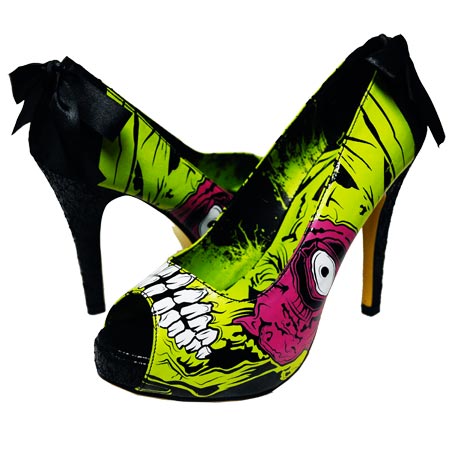 Iron Fist – Zombie Stomper Platform Peep-Toes
"The aptly-named Zombie Stomper heel from Iron Fist.. Features a mammoth 4.5″ heel, and 1″ platform sole, peeptoe and bow detail to heel. Perfect for stompin' on zombies..and men's hearts." While I'm not sure I'm a fan of that last part… anything that helps the cause against zombies is welcome in my book! Finally a pair of heels that aren't just stylish but useful!
If you feel like buying a pair head over to Dress Code today!
[via: Zombie Monkey Projects.]
Category: Misc.
Stuart Conover
is the editor of Buy Zombie, a blogger, published author, geek, entrepreneur, horror fanatic, and gamer. Resident slayer of the undead and all around zombie fanatic.