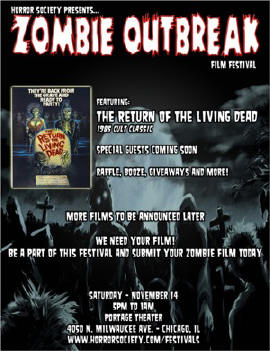 Zombie Outbreak Confirmed
So we have another event fully lined up by Horror Society in Chicago. On November 14th be prepared to experience the Zombie Outbreak! 10 hours of Zombie madness are set to infest the Portage Theater in Chicago and your all invited (assuming you want to buy tickets of course… which you damn well better want to!) A great lineup of movies are in the works and I for one am very excited to be able to make this one!
ZOMBIE OUTBREAK FILM FESTIVAL
November 14th, 2009
Portage Theater – Chicago, IL
4pm to 2am

::MOVIES::
Chemical 12-D
The Basement
Fleshbeast
Colin
Pathogen
Zombie Girl the Movie
Tales from the Script Promo
Sub Hub Trailer
The Return of the Living Dead – 35mm

::GUESTS::
Ron Fitzgerald
(co-star of Tales from the Script)

Claire "Fluff" Ryan
(co-star of Tales from the Script)

Kitty Zombie

Scott Kenmore
(Author Zombie Zen)

The Undead Comic

Justin Johnson
(Director of Zombie Girl the Movie)

Mac Eldridge
(Director of Chemical 12-D)

Walter J. Walsh
(Director of The Basement)

Special Appearance by Sam the Zombie Hunter

and more….

::SCHEDULE::
TBA

::VENDORS::
TBA

::WHATS HAPPENING::
Come Dressed as a ZOMBIE
Zombie Photo Op
Return of the Living Dead Trivia
Giveaways
Raffle of H2 poster signed by Rob Zombie and Sheri Moon Zombie
and more…..
For more details head over to Horror Society.
Category: Zombie Events
Stuart Conover
is the editor of Buy Zombie, a blogger, published author, geek, entrepreneur, horror fanatic, and gamer. Resident slayer of the undead and all around zombie fanatic.