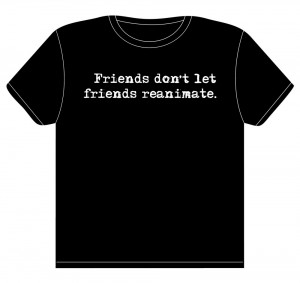 Zombies Happen Friends Don't Let Friends Reanimate Shirt
Once again my friends over at Zombies Happen have created a great saying on a shirt. I know it's surprising but they always do end up getting a lot of the best slogans. This one based off of a bumper sticker that they sell. One of these days they are going to have a shirt for sale I don't like. Dammit no one can be that good!
The only way to tell them you truly care, is to shoot them in the head.
…Or buy them this shirt.
As always if you want to pick one up for yourself head over to Zombies Happen!