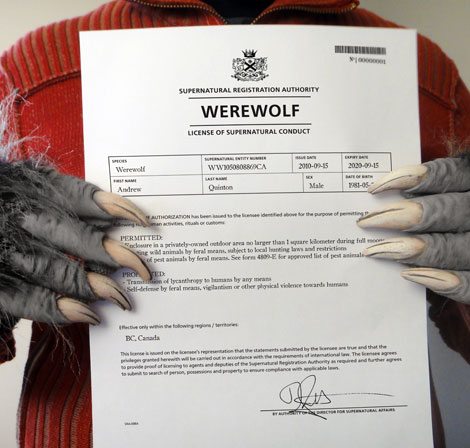 Remember Folks, If You Are A Monster You Need To Register With The Supernatural Registration Authority
Monsters exist in many shapes, sizes, and forms. If you ARE a supernatural (or paranormal, or whatever) being though you know that it is your duty to register with the authorities (that or be killed on site.) While we are of course showing this off for all of the beings who may read this site we are of course mainly focusing on the needs of the undead out there.


Who Needs To Register?
The SRA provides mandatory registration and optional licensing services for members of the international supernatural, paranatural and magico-religious communities. If you are entity listed in the SRA Entity Index and you do not have a Supernatural Entity Number, you must register.

By registering with the SRA, non-human entities guaranteed due process and a fair trial in any civil or criminal legal proceedings related to their supernatural capabilities.
So if you are one of the undead or any kind of other paranormal creature make sure to register at Monster Licenses today!