[nggallery id=31]
ZombAlert Has Been Released
Back in December we teased about ZombAlert's upcoming release and now it's happened! ZombAlert is a great way to let your family know exactly how you want to expire if you get turned, or if you want them to keep you alive in case a cure is found.
Now if it's more a Rage Virus infection via 28 Days Later I could see that but I don't think there is a cure for death which most forms of being turned into a zombie requires to have happen. Still, the option is there in case you want to chance it!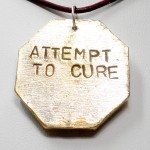 If you were bitten during the Zombie Apocalypse what would your final wish be?
The quick Double Tap?
The classic Decapitation?
For your loved ones to Attempt To Cure You?
Well, now you're covered if they forget to ask.
Optimystical Studios is proud to launch the ZombAlert line!
Each ZombAlert© pendant is individually cast by hand from top quality lead free pewter.
Once cast & cleaned the pendants are stamped with your choice of final wishes.
We currently offer: Double Tap, Decapitate, or Attempt To Cure.
After another round of cleaning we enamel each pendant with your color/finish choice.
These options currently include: Weathered Silver, Red Background with Black Z, Black Background with Red Z, Solid Background: Purple, Solid Background: Red, or Solid Background: Black.
Available at: ZombAlert!