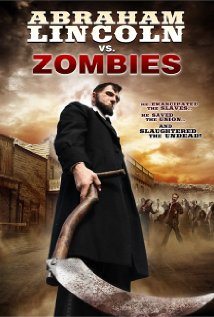 When The Asylum puts out a film 90% of the time you can expect one main thing – there is a major motion picture coming out that they are going to be making fun of. Sure this isn't the case of all of their services, just most of them. This film written and directed by Richard Schenkman is no different as it hit the straight to DVD section of your local movie stores and Amazon. What Richard put together though does strongly go against what The Asylum usually puts out. What I mean to say is that Richard's put together a movie that doesn't suck. Is ALVZ the pinnacle of zombie films? By no means is it even close. However unlike the majority of The Asylum films that are out there it doesn't suck.
Bill Oberst Jr. plays the roll of Abraham Lincoln and does such an outstanding performance that there are times you will even forget who produced the film you are watching. It just goes to show you that a decently written and directed film with a great actor goes along way. I'll stop with ripping on The Asylum's films now (as hard as it is) because this really was an enjoyable watch.
The pacing of the film is done nearly perfectly. No parts ever seem to really drag aside from a short area near the beginning and the plot advancements that could have turned the film boring or cheesy worked perfectly.
The rough outline though shows that Lincoln had to deal with a zombie outbreak as a young boy. It ended almost before it began though the memories lasted a lifetime. Years later when getting ready to deliver the Gettysburg Address there is a report that came in about a plague that highly resembled the outbreak Lincoln knew as a child. Once the messenger who had been bitten turns he knows that he had to keep it a secret and deal with the plague himself. This is the only part of the film that almost seems to drag without any zombies and suffering from a slow setup. Once it passes though it goes to an above average B zombie film that you'll love watching hordes of northern and southern zombies be slayed.
The rest of the cast doesn't live up to Bill Oberst Jr.'s amazing take on Lincoln (I really want to see this guy do more films) but are still to pull of an amazing zombie period piece. It's extremely entertaining on how they work in some great historical characters including Pat Garrett (whose actually Billy the Kid), an interesting 10 year old Teddy Roosevelt, and a certain "John Wilkinson" (aka Mr. John Wilkes Booth) who, in this version, isn't the villain history has painted him to be.
It's a fun film. It by no means won't win any awards but damn do they do a great job at making a mockumentary for the first time in The Asylum's history. Dammit I did it again. Still though if you are looking for a zombie film that isn't horrible (again it's not the best film out there but it's by no means bad and most importantly it's a fun different take on the zombie genre.)
Available on Amazon
Category: Movie Reviews, Reviews
Stuart Conover
is the editor of Buy Zombie, a blogger, published author, geek, entrepreneur, horror fanatic, and gamer. Resident slayer of the undead and all around zombie fanatic.