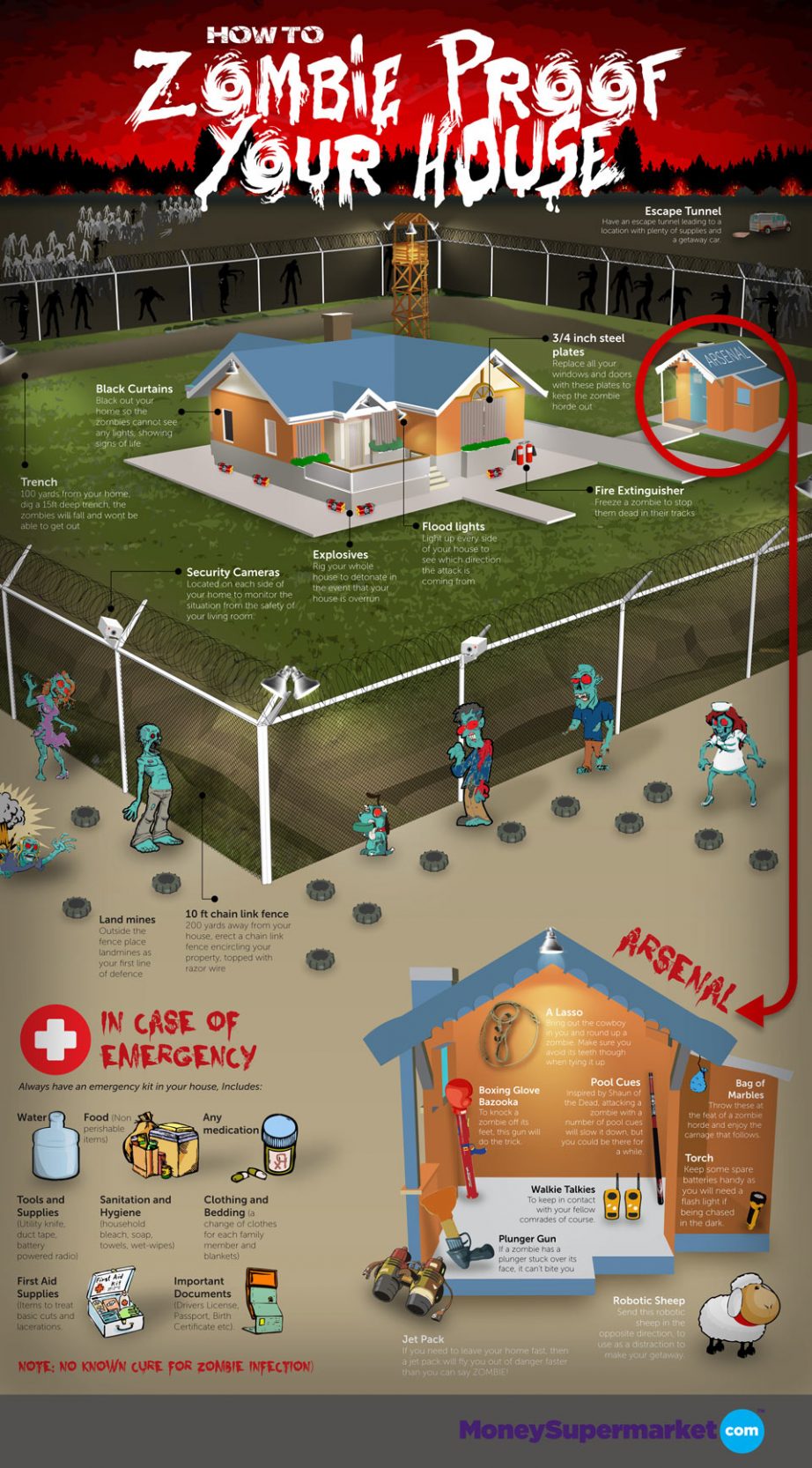 The guys behind the "How to zombie proof your car" have also been working on your home safety. Let's be honest while it is nice to have easier abilities to be mobile there is only so much travel you'll be able to do on a regular basis when the streets are swarming with the undead. If you can have a base of operations you should, and it should be as well protected as possible!
Are you prepared for the zombie apocalypse? Well with this helpful infographic you will be!

With a one thousand strong army of the undead arriving at your door, you're going to need a lot more than a couple of pool cues to survive the night.

Surrounded by a 10ft chain link fence with security cameras and a mine field you should be safe in the comfort of your own home.
When the action gets too close for comfort, gadgets such a plunger gun, boxing glove bazooka and a robotic sheep should be enough for you to see out the invasion until help arrives.

Similar to being caught in a flood, it is always good to have a backup plan and an emergency kit on standby, with items such as medication, first aid supplies and important documents such as your passport and driving license.

If the zombies get too close, having a jet pack on stand-by is always handy to whisk you away from danger, and with explosives surrounding the property, that should help see off the last of the zombies.

Don't worry about the destruction of your property though, once the invasion is over you can claim on your buildings insurance to rebuild your home.
[via: Money Super Market.]
Category: Zombie Humor
Stuart Conover
is the editor of Buy Zombie, a blogger, published author, geek, entrepreneur, horror fanatic, and gamer. Resident slayer of the undead and all around zombie fanatic.