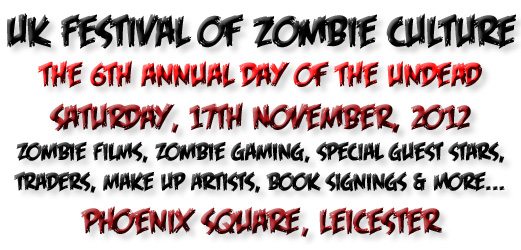 Here's a fun one for our zombie loving friends in the UK. It's the 6th annual day of the Undead and it has a LOT set for your entertainment!
17th November, 2012… Phoenix Square in Leicester…

This year, the streets will once again run red with blood…

Yes, it's another Day of the Undead….

THE FILMS: At the Festival we screen around 12 hours of Zombie films, with this being 6 features… We are in the process of finalising the films, but the ones we have confirmed so far are:

12.00 Noon – ZOMBIE FLESH EATERS (1979): WORLD PREMIERE: HD VERSION… Lucio Fulci created the film that would challenge Romeros reign as King of the Zombies and for the first time on the Big Screen we are able to show the restored version before its release on Blu-Ray…

14.10 – MURALIM (201)): UK PREMIERE and a Programme of Shorts… Israels 1st Ever Zombie Film… This movie pits a young conscript against hordes of the living dead during passover… Culturally Significant… YES… Awesome slice of Zombie Action… SURE…

16.10 – BEFORE DAWN (2012): With intro from Director & Actor Dominic Brunt… More famous as Paddy the Vet from Emmerdale, Yes, that's right, Dominic has created this truly brilliant slice of British Zombie Horror and will be introducing it here, at the UK Festival of Zombie Culture…

CHARLIE HIGSON TIME!!! Charlie Higson will be doing a reading from his latest book 'The Sacrifice' and talking zombies before doing a book signing with the Team from Puffin and Waterstones… Plus this is the time to get a drink, order some food and 'smoke em if you got em…'

19.15 -THE ESCHATRILOGY (2012): With Intro and Q&A with Director & Producer… Is a trio of zombie shorts about the end of the world and it's effects on the family unit. The film boasts a huge cast and fantastic make up and special effects, it has also included nearly 350 locals and extras combined for the three films.

21.30 – THE MYSTERY FILM !!! We are waiting till the last minute to announce this bad-boy… You will not want to miss this one…

23.20 – COCKNEYS Vs ZOMBIES (2012) A bunch of East-enders fight their way out of a zombie infested London, lead by an unlikely gang of amateur banks robbers and foul-mouthed plucky pensioners. Starring Michelle Ryan, Honor Blackman and Harry Treadaway. The undead are brown bread.

—–

2012, will herald a new era in the UK Festival of Zombie Culture, as we already have one film director and one author both of whom are nationally know for their TV work coming down to the event, Yes they were successful before getting into the world of Zombies and they will be meeting, greeting and generally talking undead to everyone…

We will also have the Arcade of the Dead, featuring some of the Ultimate Classic Zombie games of All Time! 8 Consoles, tonnes of controllers, including the ever popular key board for 'Typing of the Dead…' It is the third year we have hosted Retroactives more sinister side of gaming and it keeps getting more and more brutal every year…

We are hoping for a UK First in our 3 minute Zombie Killing Challenge and are waiting to hear if we have secured a UK gaming premiere for a zombie slaying game not due out until 2013… No matter what happens there will be the Living Dead a-plenty to blow apart on one of the cinema screens and prizes for the biggest of bodycounts…

The Best Dressed Zombie Competition is again on the cards with a spectacular prize for the best zombie to attend, PLUS if you dress as a zombie you will be also get photographed with the guest stars who have both stated a desire to be devoured…

There will also be Gav'n Gore leading our Team of Make Up Artists, turning you into a rotting flesh muncher, so if you lack the make up skills then dress as a zommer and get your make up done when you get to the event…

SPECIAL GUEST STARS:

Charlie Higson… TV Star (The Fast Show) and Zombie Author will be attending the event to read from his latest book 'The Sacrifice' and to sign copies of this and the other books in his Zombie Series…

Dominic Brunt… Soap Opera Royalty and Zombie Film Director, will be introducing his film Before Dawn…

David Moody… Critically Acclaimed Author of the Autumn and Hater Series of Book…

Wayne Symmons… Horror Author and Ink Collector…

Damian Morter… Director and Actor – The Eschatrilogy… Intro'ing his own movie…

Luke Duffy… Ex Para, Security Specialist and Apocalyptic Zombie Author of 'When There's No More Room in Hell'

Sean T. Page… Zombie Survival Specialist, Author and Undead Expert

Adam Millard… Prolific Horror Author and Tatooed Zombie Lover… Catch him and his posse at the event…
You can find out all of the details including ordering tickets from Terror 4 Fun.
Category: Zombie Events
Stuart Conover
is the editor of Buy Zombie, a blogger, published author, geek, entrepreneur, horror fanatic, and gamer. Resident slayer of the undead and all around zombie fanatic.