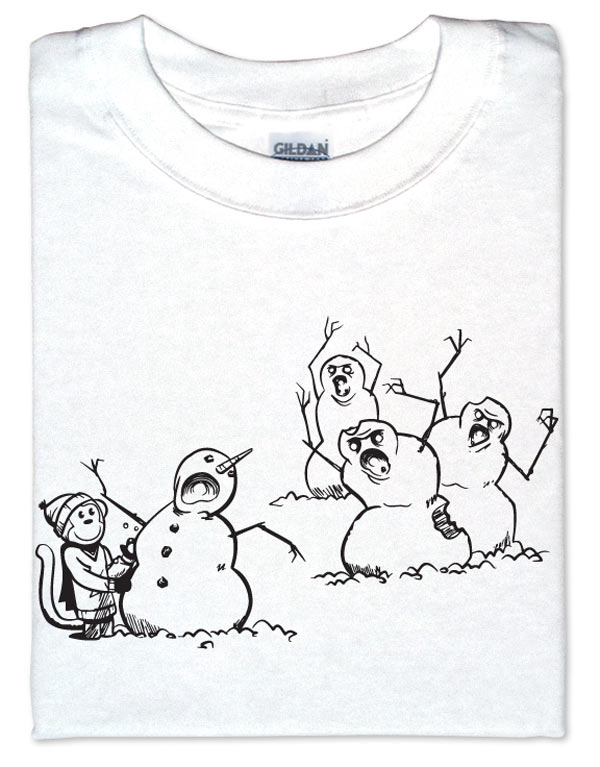 Totally digging on the Calvin and Hobbes theme in this shirt. It makes me giddy with a fantastic memory of the comic in general and I had to share this one with you asap.
The weather outside is frightful. Poor Timmy better watch out. He'd better not cry. He'd better not pout. Zombie snowmen are coming to town! Zombie snowman, eh? We hear the children know how he came to life one day.

Q: Why do snow zombies wait until you've had an ice cream cone to attack?
A: Cause they like brain freeze! (Talk about frostbite.)

Thank you. Thank you. We'll be here all week. Cause we got our brains eated out by zombie snowmen so we can't go anyplace.

This white, 100% cotton t-shirt features Timmy making a snow zombie while being snuck up on by a horde of angry snow zombies. Or maybe Timmy fashioned the horde of angry snow zombies to keep kids offa his lawn. We don't know. You make up your own story to go with the shirt.

P.S. Recognize Timmy's zombie? Yep. We also love Calvin & Hobbes, and when we asked our artist to come up with a zombie-themed holiday, well, to paraphrase another cartoon classic, this just seemed to fit the modern spirit. Thanks for making us laugh, cry, and flee in fear, Mr. Watterson.
Available at Think Geek.
Category: Shirts
Stuart Conover
is the editor of Buy Zombie, a blogger, published author, geek, entrepreneur, horror fanatic, and gamer. Resident slayer of the undead and all around zombie fanatic.