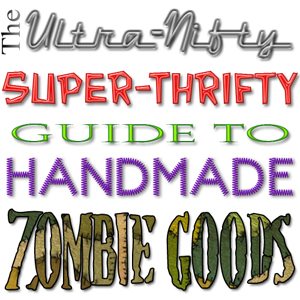 Welcome to the Ultra-Nifty-Super-Thrifty Guide to Handmade Zombie Goods, your weekly guide to awesome Zombie-related goods for $10 or less. As many of you know, today is Cyber Monday–the internet equivalent of Black Friday–and deals are abundant.  Here are some awesome zombie deals just for you:
50% OFF Cyber Monday Sale Eye Shadow/Pigment-Zombie Love-Full Size-Vegan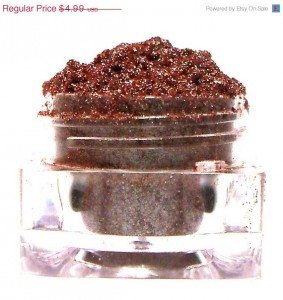 This gore-geous eyeshadow is the hue of the dark, decaying blood that sits and rots in every zombie.  50% off for Cyber Monday!
BLACK FRIDAY CYBERMONDAY Ooey Gooey Zombie Brains Necklace
This cute and kitschy pendant is absolutely stunning and the price can't be beat!  Originally sold for $20, it's on sale for $8 today!
CYBER MONDAY SALE – 1 Zombie Apocalypse square shot glass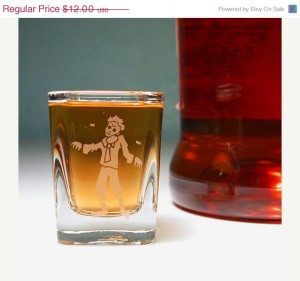 Any fan of spirits and zombies will love this glass. And it's on sale for $9.60 from it's original price of $12 which means you can buy more booze with the savings.

Black Friday/Cyber Monday CLEARANCE Sale….Halloween Zombie -Handmade Card -OOAK Saturated Canary -Festive, Holiday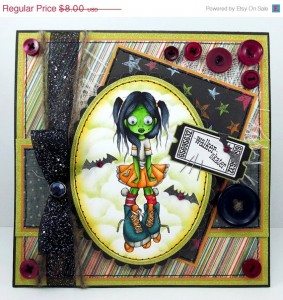 This card featuring an adorable roller-ghoul will definitely help you brighten someone's day.  Originally $8, it's only $5.60 for Cyber Monday.
Zombie Santa Christmas magnet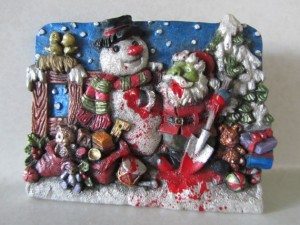 Christmas is right around the corner, and this magnet will definitely help you get in the spirit of the holidays, in a dark and morbid way.
I am also having a Cyber Monday sale in my shop, blackthornerose.etsy.com.  20% off your entire order!  But, just for you, my lovely readers, here's a code for 30% off!  Just use code UNSTG30 at checkout! 
If you sell awesome handmade Zombie products for $10 or less, or know of any, e-mail a link to littleshopofzombies@yahoo.com, subject line "BuyZombie.com" or convo me through my Etsy store (littleshopofzombies.etsy.com) for a chance to have it featured in one of the weekly posts!
Category: Zombie News
Erin Rose Tollefsen is a free-lance artist and crafter with an undying love of the living dead. Her art can be seen and purchased through her website, http://littleshopofzombies.com.