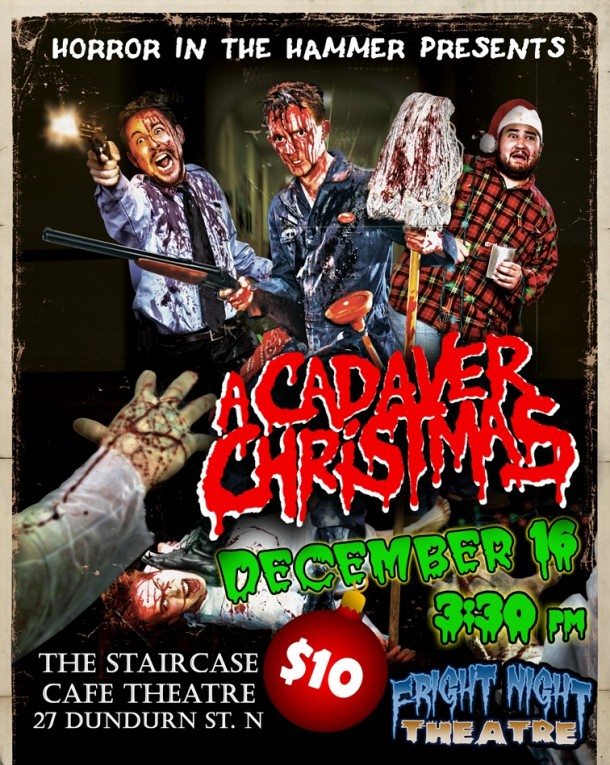 So one of our current sponsors has a showing coming up and we would be remiss to tell you about it! The film itself is rock solid (we'll have a review going up for it soonish) and if you are one of our Canadian readers who are in the area I highly stress making a trip to check it out on the big screen!
Twas the night before Christmas and all through the Lab, not a creature was stirring, except for the cadavers!
When a biology professor's Christmas Eve experiment goes horribly awry, it's up to the university's janitor to mop up the mess…but dealing with the undead may be a job even the best janitor can't keep under control. It'll be at the The Staircase Theatre (27 Dundurn St N, Hamilton, Ontario L8R3C9) and run $10 though there are prizes to win as well.

Armed with nothing but oddly effective holiday decorations, the janitor, a cop, the local bartender, and the town drunk must all work together to find the professor, re-kill the cadavers, and save the world…all by Christmas morning. And like every good Zombie Christmas movie, they also learn a little about friendship and the holiday spirit along the way.
If you want to pickup the film you can purchase it on Amazon if you aren't in the area to go see it or just can't wait. Also be sure to check out the Facebook event for more details!
Category: Zombie Events
Stuart Conover
is the editor of Buy Zombie, a blogger, published author, geek, entrepreneur, horror fanatic, and gamer. Resident slayer of the undead and all around zombie fanatic.