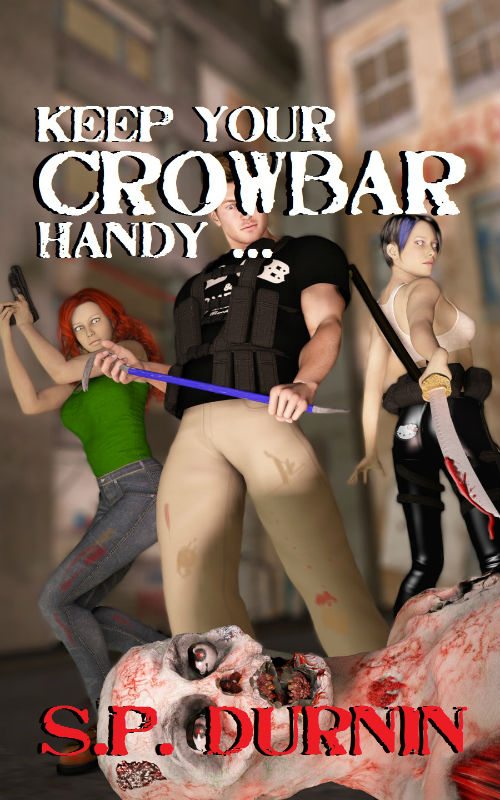 FULL DISCLOSURE: S.P. Durnin is an ongoing writer and contributor for Buy Zombie
I recently had the pleasure of reading a review copy of S.P. Durnin's Keep Your Crowbar Handy and I have to say wow! It's not often that a book in the apocalyptic/zombie genre affects me to that level. With the seemingly unending novels out there that are mediocre or worse, KYCH stands out as a story that you hate to see end.
The premise behind KYCH is pretty simple, boy meets girl, girl likes boy, boy likes girl chemistry happens then this unfortunate event of a zombie apocalypse hits and it's a fun time for all. The primary characters are the story in Durnin's tale. They make up the core element of the plot as they attempt to survive in a changed world. Jake, the primary character is a former embedded journalist with time spent in some real shitholes and is now a freelance editor and ghost writer. Laurel, the stunning redhead who can belt out ballads is the girl of his dreams. Kat, the blue-haired, sword welding anime like ninja girl who was supposed to be Jake's friend Allen's girlfriend is incredibly complex and quite handy to have around.
Foster, the retired Navy Chief now building supervisor and Gertrude the geriatric member of the survival group, round out the primary cast. Toss in an ex-girlfriend who is a total psychotic sociopath and a guy who has no clue what to do outside of a club and you have a volatile mix. Oh yeah, there's like a few thousand other cast members but they mostly moan and wander around searching for humans to munch on.
Not taking a page out of the 'it came from outer space' manual when describing the cause of the outbreak, Durnin doesn't even bother to go into that aspect of the story as it's all about the people. Who cares what started the dead walking and eating people, the primary element is always about the people. And a large, Pepto-Bismol colored urban escape vehicle.
Keep Your Crowbar Handy far surpasses other novels in this same genre as it's one of the few that grabs the reader by the throat and puts them into the story right beside the other survivors. KYCH is a rollercoaster ride of action, adventure, suspense, horror, gore, and personal relationships at the end of the world as we know it. The only comparison I can think of is the Becoming series by Jessica Meigs when it comes to interpersonal relationships with a background of an apocalyptic event.
If this is only the first book in the series then hold on to your socks, the rest of the series will blow them off.
Keep Your Crowbar Handy, you'll need it.
Available on Amazon.
Category: Book Reviews, Reviews
James 'Remo' Jackson is a former US Navy Chief Petty Officer who received the nickname 'Remo' from a service buddy not from the popular Destroyer series of action novels. With a few non-fiction works to his credit, short manuals and procedural text books, he is currently a roving reviewer for
buyzombie.com
. While in the service he developed an interest in the zombie/horror genre and was disappointed at the lack of novels and films that contained realistic and accurate military action. This inspired him to create his own zombie apocalyptic novel that is currently an 'epic' work in progress that has a military thematic element to it. A certified wilderness/outdoor survival instructor and disaster mitigation educator, he can normally be found outdoors teaching clueless people the fine art of survival in less than pristine conditions.