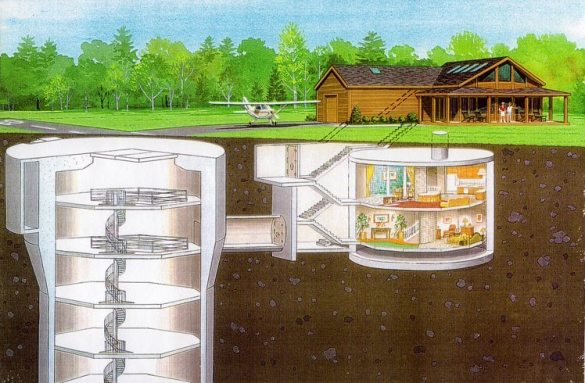 I'm sure you've seen dozens of zombie proof homes listed over the past few years. While most of them are amazing examples of fortresses, many are simply meant to stand tall within our dreams. From the $750k Atlas F missile base home in NY's Adirondack state park to the $10.6mil Charles Sieger designed castle situated elegantly inside of a moat in Homestead, FL.
All of these properties are perfectly suited to enable you to live out your days; un fazed by the brain sucking hordes your neighbors will have to face. However, it seems every list is reluctant to realize one simple thing. Most of us zombie preppers are poor as dirt.
I set out to create a list of apocalyptic dream properties that the average person may actually have a chance at affording.
#5
Fish Cay and Guana Cay, New Providence, Bahamas. (~$100k – $116k with additional taxes, commissions, and fees)
http://www.vladi-private-islands.de/en/objects/caribbean/bahamas/buy/fish-cay-and-guana-cay/.
This happens to be my personal favorite. These two tropical Caribbean islands are unable to be sold separately. Fish cay is approximately .5 acre, and Guana cay is 1.5 acres. The year round warm climate creates a great environment for growing a number of tropical fruits and veggies, and the Caribbean's waters could serve up a smorgasbord of fresh seafood for you and a couple friends. In addition, you're likely to find a number of small lizards, mammals, and birds inhabiting the islands. There are no current shelters on the islands, but all utilities are easily available with a blank slate for developing your own private bungalow. The major downfall of this property is the close proximity of New Providence. This is the most heavily populated island of the Bahamas. There is a major airport on the nearby big island, and the south side of Guana cay offers a great boat access. Oh, but don't let the blue tropical island skies cloud your mind about the occasional hurricane. Overall, if you don't mind the tropical climate, and tourists, this could be a great stronghold for the apocalypse.
#4
Sheep Lake Islands, Nova Scotia, Canada. (~$43500-49950usd)
http://www.vladi-private-islands.de/en/objects/canada-east-central/nova-scotia/buy/sheep-lakeislands/.
These 4 private tree covered islands (technically one is a peninsula) are situated in Sheep Lake. They range from 1.13 to 2.38 acres in size. This is a sparsely populated area near the Atlantic coast in Nova Scotia, Canada. The lake sits only a few miles from a major road, and is within 25 miles of several small towns. This includes one of the largest towns in the area, Bridgewater with a population of just over 8000, at roughly 15 miles away. This small population could be your savior when the dead start trotting around looking for a tasty snack. The climate in the area is rather mild with average highs topping 78 degrees in July, and average lows staying around 32 in January. This would enable you to grow food on whichever island (or peninsula if you don't want to mess with one of those pesky boats) you choose to store in your hand hewn log cabin during the winter months. That cabin could easily be built with the large timbers on each of the islands. Along with the vast supply of fresh and saltwater in the area seafood would be a relatively easy thing to come by.
#3
34′ Prout sailing catamaran. ($69.9k.)
http://www.sailboatlistings.com/view/31366.
Staying put not your thing? Do you dream of living like Kevin Costner in the movie Waterworld? Yeah, me too. His gill flaps are pretty sexy. Sure, this isn't technically a property, but it will get the job done. This sailing catamaran has enough space for you, and a couple of friends to comfortably cruise around wherever you please. Be it by sail, or by motor. This leaves the climate for you to choose, and the surrounding population is determined by wherever you drop anchor. Food and water are your only real issues. However, you could certainly grow a limited supply of food on the decks, and install desalination filters to create drinking water.
#2
10.9 acres of tropical rainforest in Yangana(Vilcabamba), Ecuador. ($80k usd negotiable.)
http://www.survivalrealty.com/2012/08/real-freedom-in-ecuador.html.
This property is surrounded by hills, rock walls, and a mountain stream. Add that to the year round growing season of a spring-like tropical climate, and what more could you ask for in a survival retreat? How about the fact that this area is often called the "Valley of Longevity." Locals claim that it's not at all unusual to have neighbors live to see 100 years old, and many are said to reach 120 to 135 years old. Granted, there have been quite a few negative investigations into the life expectancy of this area, but you never know.
#1
3 bed 2 bath home on 60 acre ranch, Texas. ($120k- negotiable)
http://www.viviun.com/AD-2596/.
This 1800+sf home sits on 60 acres with everything you might need in the case of a horrendous plague. A water catchment system, greenhouse with electricity and water, drip watering system for the lawn, and the Christmas Mountains all around you. What better way to stop the hordes than miles of rock?
That is, if you ever see a horde with the very very small surrounding population. Also, the property sits just a few miles from a highway, so getting to and from before the world turns to shit won't be a hard task. The 60 acre property leaves you plenty of room for growing crops, raising animals, or filling your land with booby traps and barricades. The weather can be hot. The average highs range from a mild 60 in January to 94 degrees in June. The average lows generally stay above freezing, but vary from 35 in January to 68 in July. There is the problem of little precipitation, however, you can expect a couple inches a month for most of the year. That should enable you to store enough water to keep a garden happy if managed wisely. The working well also allows plenty of drinking water.
These just happen to be a few possible bug-out, or bug-in, locations around the world that caught my eye. With a little searching, a little luck, and a plan you can find your very own dream survival camp on a budget.
Category: Zombie News
I'm an actor, filmmaker, writer, and zombie dreamer.