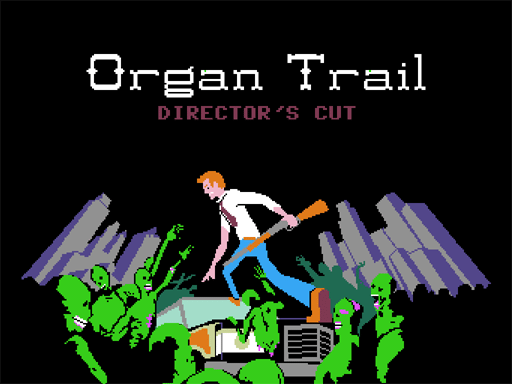 Previously this game out as an iOS game and now is spreading to PC, Mac, and Linux. Loosely based on The Oregon Trail that was an educational game from the past this is a modernized version that adds zombies. By modernized I of course mean that zombies were added because graphically? This game is OLD school.
Organ Trail is a retro zombie survival game. Travel westward in a station wagon with 4 of your friends, scavenging for supplies and fending off the undead; Faithfully recreated it as if it were on the Apple 2. Packed full of zombie mechanics, themes and references; this is a must have for any zombie survival fans.

Features
Name your party after your friends and watch them die slowly
Hours of gameplay!
Get dysentery and 9 other diseases
Scavenge for supplies while you fight back the undead
Manage your food, ammo, fuel, medkits and more in your struggle to survive
Put down infected party members who might turn on you
Stop at towns to trade, take jobs and fix your car
Endless Mode! Play until you die
Car and combat upgrades
Fight off bandits
Zombie boss fights
Choose-your-own-adventure style encounters on the road
A weather system and day night cycle
Huge soundtrack and delicious Apple 2 pixel art
28 Achievements
Survivor leaderboards
400 community written tombstones
Bonus ridiculous physics based driving game
The game is currently available at Hats Productions but will later be available on Steam. If you buy a copy sooner though you will also be given access to it through the Steam Client once it's approved so you have no need to worry there!
Category: Zombie News
Stuart Conover
is the editor of Buy Zombie, a blogger, published author, geek, entrepreneur, horror fanatic, and gamer. Resident slayer of the undead and all around zombie fanatic.