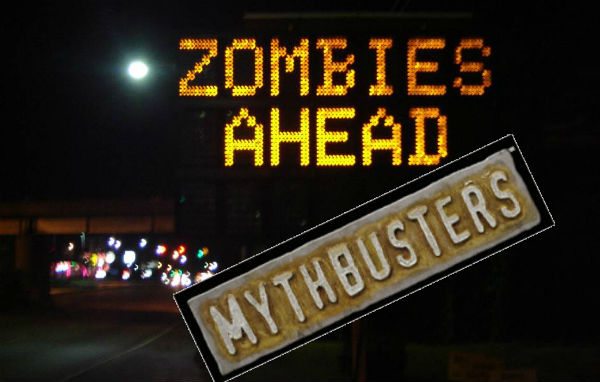 Are you a killer zombie located in the San Francisco Bay area? You could end up in an upcoming episode of MythBusters! We're not sure exactly how the segment will go down, but we do know this: They are currently looking for 300 volunteers for a shoot in late Jan/early Feb to arrive at the shoot in full zombie attire (states of decay encouraged), with the "head and torso clear of impaled objects" to allow for the addition of safety gear such as helmets and padding. You must be able to move freely in your  attire and all zombies must be 18+.
To volunteer, fill out this survey and upload a photo of yourself at your zombie best. 300 zombies will be selected — there is no guarantee that applicants will be selected for the show.
For more, follow MythBuster's Twitter Page.
Source: Inside TV: 'Mythbusters' doing zombie episode (and want your help) — EXCLUSIVE
Category: Zombie News
Holly is a Delaware native with a degree in Fine Arts from Tyler School of Art in Philadelphia and an inexplicable fascination with zombies. She got her start in writing covering the local and national music scenes for *Big Shout* and *What It Is* magazines. She currently works as a freelance writer, contributing to sites such as ***Pop Eater, **Delaware Arts Info*and *Horrornews*. Holly lives in Wilmington with her husband and son.