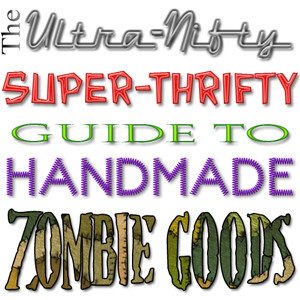 Welcome to the Ultra-Nifty-Super-Thrifty Guide to Handmade Zombie Goods, your weekly guide to awesome Zombie-related goods for $10 or less.  Valentine's Day is creeping up and Zombie Cupid is getting his bow ready, so why not start early and get your Valentine a card they'll really love?
Zombie Love Card- Awkward Affections- Nerdy Valentine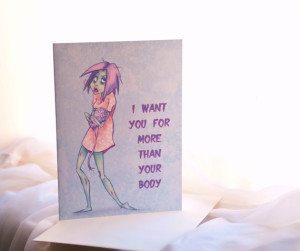 Let your Valentine know that you love their big, delicious brain, not just their body.
Zombie Love
Let your love know that you'll always be there for them (even if they turn into a brain-munching zombie) with this adorable greeting card.
Valentine Card – I Love Your Guts Zombie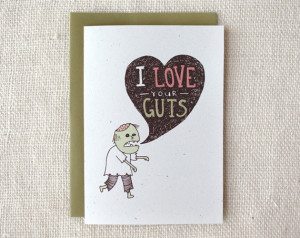 You know you love their guts, so let them know it this Valentine's Day.
Zombie Missing you Love postcard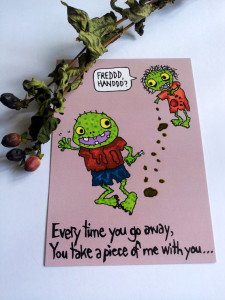 If your Valentine is not with you, it can leave you feeling incomplete.  This postcard is a sweet and quirky way to let your love know just how it makes you feel.
Funny Valentine's Day card – Zombie I love you to pieces card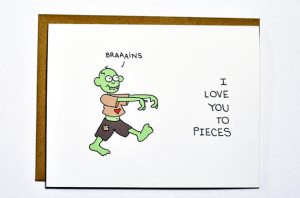 Zombies definitely love every little piece of you, so why not share the sentiment with your love?
If you sell awesome handmade Zombie products for $10 or less, or know of any, e-mail a link to littleshopofzombies@yahoo.com, subject line "BuyZombie.com" or convo me through my Etsy store (littleshopofzombies.etsy.com) for a chance to have it featured in one of the weekly posts!
Category: Zombie News
Erin Rose Tollefsen is a free-lance artist and crafter with an undying love of the living dead. Her art can be seen and purchased through her website, http://littleshopofzombies.com.