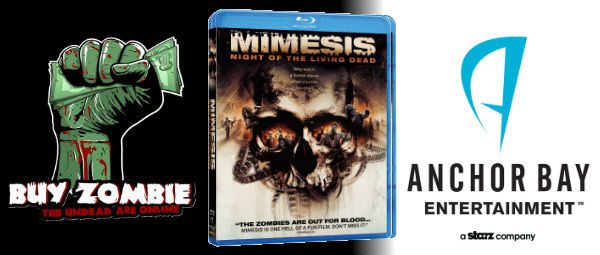 On February 12th Anchor Bay is bringing Mimesis out on DVD and Blu-Ray. From today until the end of next week (Feb 8th) you have the ability to enter and attempt to win yourself one of two copies that Anchor Bay is giving us to send to you on Blu-ray! This contest is ONLY AVAILABLE TO OUR NORTH AMERICAN READERS. I apologize in advanced to our readers outside of North America. Just follow through the instructions in the widget below to enter! Get your entering on by using the widget below!
Why watch a horror film when you can live one?

For over a century, fans have had their blood curdled and spins chilled by the vicarious thrills of horror films. Whether populated by ghouls, slashers, zombies or vampires, fans flocked to have their pulse quickened and exercise their scream-generating skills. But one thing remained constant: eventually the story ended, because it was only a movie. What if it didn't have to end? What if the next level of horror was to experience a horror film from the inside?

Already the fan and critical favorite from over 15 notable film festivals, Anchor Bay Entertainment presents the next evolutionary turn in horror entertainment with the February 12th release of Mimesis on Blu-ray™ and DVD.
Category: Zombie News
Stuart Conover
is the editor of Buy Zombie, a blogger, published author, geek, entrepreneur, horror fanatic, and gamer. Resident slayer of the undead and all around zombie fanatic.