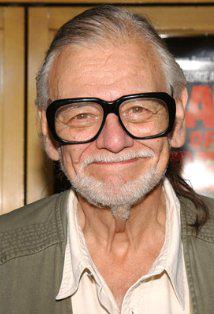 When there is no more room for candles on George A Romero's birthday cake . . . the dead will walk the earth. So, thank God then that George, who was born on February 4, 1940, is only a spring chicken today at the tender age of 73. He still has plenty of years left before we need to worry about seeing the shambling corpse of this successful filmmaker.
For zombie fans and film fans anywhere, George is a legend I his own lifetime. Creator of the groundbreaking 'Dead' series, which started in 1968 with Night of the Living Dead, Romero changed the course of zombie films, producing something that still stands the test of time. As anyone who has seen this film, and they will always remember the footage of Barbara being chased by her fake zombie brother, calling out to her, 'They're coming to get you, Barbara!' And this image is not the only memorable image from his first foray into zombie stardom. The outstanding and unique aspect of this film, is that on the 1960′s when there was rife inequality between black and white citizens in America, Romero produced a film with a male black hero; a strong and independent character who ensures the survival of Barbara, the rather insipid blonde heroine. Yet despite their difference at the beginning of the film, Barbara learns to put her life in this stranger's hands. Bearing in mind the social crises of the period, Romero took a hell of a risk.
In Dawn of the Dead in 1978, Romero took further risks by making an excellent zombie film that also contained a commentary on consumerism and greed. Romero was no stranger to making films with a message and many fans quote this film as Romero's masterpiece combining action, characterization, an ensemble cast from different backgrounds and his 'message' on consumerism. This film is such a presence in zombie culture that the actor who 'starred' as the Hari Krishna zombie actually makes regular appearances at conventions.
I could talk all day about the inherent messages in Romero's work and his extreme talent, but I would come across as overly fannish. Take Survival of the Dead from 2009 for instance. I may be a gushing fan of his work, but even I can see that this film is flawed, yet one can't help admire what Romero was trying to do, even in this film (deftly ignoring the cod Oirish accents of course).
Suffice to say, Romero's work is notable for its originality, and whether you like zombies or not, you cannot deny the cultural impact of his films. So, without further a do, join me in wishing George a very happy birthday!
Category: Zombie News
Theresa was born and bred in Birmingham and her career has been pretty varied; from Warehouse Packer, then bar work, to being a crap waitress then swiftly into retail, Admin, Professional Student and dosser until finally entering the Civil Service in 1999. She left the Service in 2012 to pursue a career as a writer. Theresa writes humorous fiction including SF, Urban Fantasy & Horror. She has thirteen anthology acceptances behind her. She also writes a number of book reviews and at her site
www.terror-tree.co.uk
Her collection of short stories, Monsters Anonymous, was released from Anarchy Books Sept 12. She is Publishing Director for Fringeworks Ltd. She has loved horror, fantasy and SF all her life, thanks to her father who raised her on 50s Sci-Fi Universal Monsters, tango and popcorn. Her love of the bizarre, (including her Dad) remains constant, to this day. She also owes a great debt to Rog Peyton from the BSFG who introduced her to alternative fiction at the tender the age of 14. You can follow Theresa on Twitter
@BarbarellaFem
or find out more about her work at
www.theresa-derwin.co.uk
.