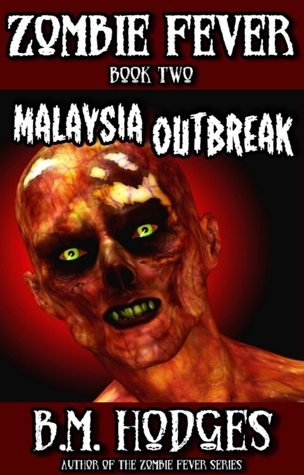 Zombie Fever Malaysia Outbreak by B.M. Hodges moves away from placing a zombie event within the USA. As the title states, the events take place in Malaysia. What makes this interesting is in the last few years cases of Swine Flu and Bird Flu have originated in that part of the world which lends some real world authenticity to the overall plot.
The story is based around a reality show that is kind of like a cross between Survivor, the Great Race and Big Brother. Toss in a road rally and you have something that is rarely seen in this genre. Sure, we have zombies, viruses, infections, etc but so far, at least I haven't read about it yet, a road rally that has teams of drivers who race through infected parts of neighboring countries. Now that I think about it does kind of remind be a little of the original Death Race with David Carradine. Just a little.
The base for the plot is the Cera Amazing Rally Showdown or CARS, (kind of sounds like SARS another infectious outbreak from that region of the world) the reality show centered on a road rally. The two main characters are Jamie and Abigail, two friends who through luck and perseverance made it onto the show. The road rally is a course where each team has to reach a certain checkpoint at a certain time, that's the simple part. The hard part is that at each checkpoint, each team must compete in some kind event. These events could be a go kart race to determine the starting order for the next day, maybe it's a high speed foot race up a set of stairs to the top of a cliff where one team member must then zip line back down and race the other zip liners to a specific spot, again, to determine the starting lineup for the next day. Fail one of these events and that team is out.
Then there are the zombies, or the people infected with IHS which is the name of the viral infection used within the book.
The basic plot is pretty simple, two friends, road rally, competition, etc, etc. But introduce a psychotic show director who is willing to put his contestants at risk just for ratings and the story takes another turn. Let's not forget that the cars are not really rally cars just normal sedans painted to look like rally cars. No racing suspension, no high power engine and none of the contestants are professional drivers. Stir all that together then mix in a good helping of how the traffic is in that part of the world and you have an incredible recipe for serious disaster.
The director of CARS, Sheldon, reminded of Richard Dawson's character Killian from The Running Man. Motivated only by ratings and a very believable character.
As the story unfolds, Abigail and Jamie are put into some twisted situations including one involving a ball gag and cooked squirrels. Along the way events transpire to a point where their rally cars are traded up for modified SUVs that would make any Mad Max re-enactor envious. The two girls get stopped by UN supported WHO military forces, kidnapped and incarcerated by a large pharmaceutical company where they find out something about the origin of the IHS virus outbreak before they escape and make a wild run to safety and finish the race.
There are a lot of local terms used within the story and the author, B.M. Hodges, is nice enough to explain them at the very beginning of the book. Once you're into the story it makes no difference, the terms are easy to understand and not an issue with readability.
There is one thing that I found to be a little strange, maybe it's a cultural thing or maybe not but the friendship between Abigail and Jamie seemed to be a bit more than just your basic friendship. Maybe that's just me but there seemed to be more being implied between the two girls then what was on the page.
Overall, Hodges' writing is well paced, descriptive without being a burden and he has created believable characters and situations. Zombie Fever Malaysia Outbreak will entertain you and hold your interest.
Available from Amazon.
Category: Book Reviews, Reviews
James 'Remo' Jackson is a former US Navy Chief Petty Officer who received the nickname 'Remo' from a service buddy not from the popular Destroyer series of action novels. With a few non-fiction works to his credit, short manuals and procedural text books, he is currently a roving reviewer for
buyzombie.com
. While in the service he developed an interest in the zombie/horror genre and was disappointed at the lack of novels and films that contained realistic and accurate military action. This inspired him to create his own zombie apocalyptic novel that is currently an 'epic' work in progress that has a military thematic element to it. A certified wilderness/outdoor survival instructor and disaster mitigation educator, he can normally be found outdoors teaching clueless people the fine art of survival in less than pristine conditions.