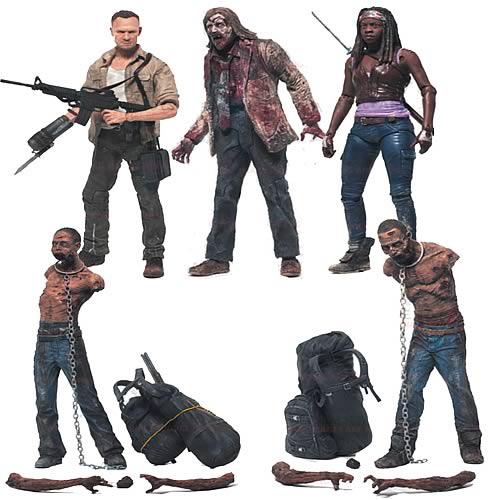 Well it's embarrassing when we're almost a full month behind on reporting something zombie related but it happens. Sorry about that!
At any rate McFarlane's next line of The Walking Dead toys have been announced and shown off at Toy Fair 2013 and thanks to Idle Hands we're happy to give you the rundown of what you'll soon be able to add to your collection!
The toy breakdown we're going to see is as follows:
Comic Series 2
Michonne's Pet: Michonne's ex-boyfriend became zombie chow. Love goes 'until death do us part' for the married but she kept him around for a little extra protection after he passed
The Governor: Clearly looking to be inspired off of the comic series of The Governor it looks like he's fully workable for the comic version – including being able to lose a limb!
Glenn in prison riot uniform: Ready to face the undead, Glenn is fully suited up to keep himself safe from being eaten alive!
Penny, The Governor's Daughter Zombie: Zombie children = creepy. 'Nuff said.
Bloody Black and White Governor with Zombie Daughter 2-Pack: Same as the above combo of the Governor and his daughter but even more inline with the comic!
Television Series 3
Merle Dixon: You can't help but love to hate the man!
Michonne: Fan favorite Michonne is now out in toy form!
Michonne's Pets: Because you need something to keep the other zombies away at night.
Autopsy Zombie: Daryl's crossbow skills were put to good work taking this zombie down.
Category: Zombie News
Stuart Conover
is the editor of Buy Zombie, a blogger, published author, geek, entrepreneur, horror fanatic, and gamer. Resident slayer of the undead and all around zombie fanatic.