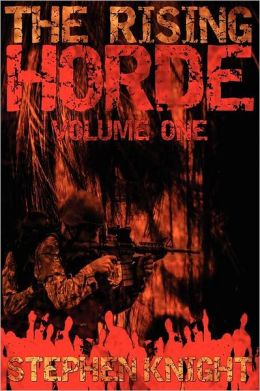 The Rising Horde is the sequel to the Gathering Dead also by the same author. This book continues the story of Major not light colonel McDaniels and Sergeant Major Gartrell, the only survivors of ODA OMEN.
With this book the reader gets more information about the virus and more detail about the strange and frightening turn of events that were taking place in the latter half of book 1. LtCol. McDaniels is now in charge of securing a research facility outside Odessa, Texas with the hope that the people inside can come up with a vaccine or cure for the virus that is slowly enveloping the globe. For the most part, the storyline follows the preparation of the site, building of fortifications, units coming in for support and that sort of thing. While that may not sound all that exciting it actually is when you look at how all those units work together towards a common goal. Of course all these preps are being made as the massive army of infected are marching towards them. The characters of McDaniels and Gartrell are fleshed out some more, the reader finds out what happened to Sgt. Gartrell in NYC when he led the infected away from what was left of ODA OMEN and their HVP and we learn more about McDaniels and Gartrell's families and their disposition.
There's a lot more terms and milspeak being used in this book and it all sounds authentic up to a point. When several other US Army Special Forces ODAs arrive to beef up the defense of the location I couldn't help but think about the ODBs and ODCs and why they weren't deployed in support of the ODAs. In case anyone is wondering what it is I'm referring to, an ODB is an Operational Detachment Bravo which supports ODAs in the field during their operations as does an Operational Detachment Charlie. These are the support structures that go into action when multiple ODAs deploy. These are known as the B and C teams.
When more of the equipment and supplies are ordered for the location a mention is given about shipping CONEX containers via a CUCV. That was a sequence that got a good chuckle out of me. A CONEX container is a large, overseas shipping container that is loaded onto a ship and transported by a semi truck to its location once on land. There is no conceivable way a CUCV, Commercial Utility Cargo Vehicle, what the military calls a pickup or SUV depending on the numerical designation, could possible transport a CONEX.
During a conversation inside the DFAC, Gartrell is speaking to a couple of other operators and mentions Bill Meadows and refers to him as a legend within the special operations community. Not sure where the author was going with this but he could have been referring to Major Richard Meadows or Dick Meadows the literal US Army Special Forces legend.
Maybe it's just me but this sequel felt rushed and not all that well researched when it came to the military side of the story.
Overall, The Rising Dead is a good sequel to the first book but fell a little short with accuracy when describing the military characters and their part in the story.
Available at Amazon.
Category: Book Reviews, Reviews
James 'Remo' Jackson is a former US Navy Chief Petty Officer who received the nickname 'Remo' from a service buddy not from the popular Destroyer series of action novels. With a few non-fiction works to his credit, short manuals and procedural text books, he is currently a roving reviewer for
buyzombie.com
. While in the service he developed an interest in the zombie/horror genre and was disappointed at the lack of novels and films that contained realistic and accurate military action. This inspired him to create his own zombie apocalyptic novel that is currently an 'epic' work in progress that has a military thematic element to it. A certified wilderness/outdoor survival instructor and disaster mitigation educator, he can normally be found outdoors teaching clueless people the fine art of survival in less than pristine conditions.