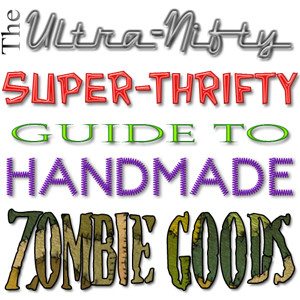 Welcome to the Ultra-Nifty-Super-Thrifty Guide to Handmade Zombie Goods, your weekly guide to awesome Zombie-related goods for $10 or less.  This week's post features some awesome green zombie-themed items that are sure to keep you from being pinched on St. Patrick's Day.
Corpsettes Novelty Pin – Decayla's Irish Pride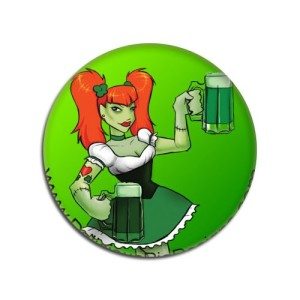 Everyone loves an Irish girl, even an undead one.
Green Zombie BRAINS Hair Bow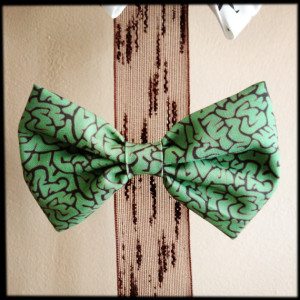 This adorable brain bow is sure to help you on your quest to become pinch-proof.
Zombie Virus – Glow In The Dark – Handmade Nail Polish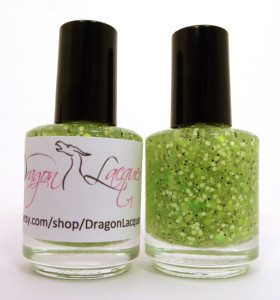 Not only does this nail polish look like an actual zombie virus being viewed through a microscope, it also glows in the dark!
Zombie Apocalypse Friendship Bracelet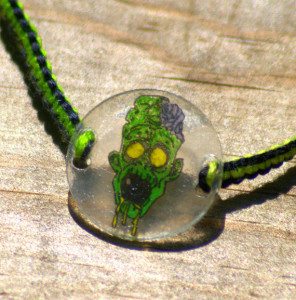 There's definitely enough green here to help you keep from being pinched this St. Paddy's Day, but it is a friendship bracelet, so you should give it to a friend who is in danger and/or loves zombies.
Zombie Prom Zombie Green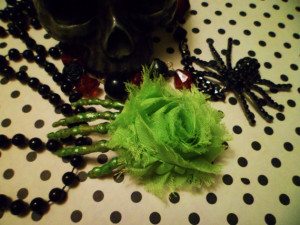 This lovely clip would look great adorning your hair or even clipped to your "Kiss Me I'm Irish" shirt.
If you sell awesome handmade Zombie products for $10 or less, or know of any, e-mail a link to ErinRoseTollefsen@buyzombie.com, subject line "BuyZombie.com" or convo me through my Etsy store (littleshopofzombies.etsy.com) for a chance to have it featured in one of the weekly posts!
Category: Zombie News
Erin Rose Tollefsen is a free-lance artist and crafter with an undying love of the living dead. Her art can be seen and purchased through her website, http://littleshopofzombies.com.