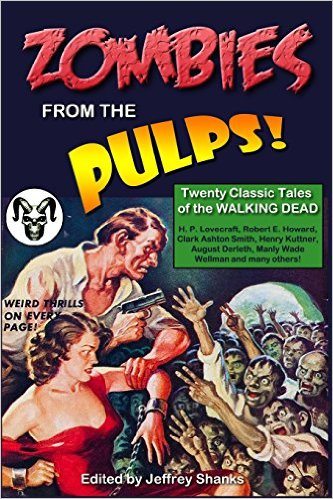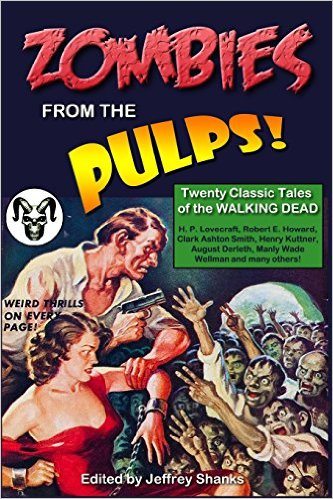 Zombies from the Pulps! – Twenty Classic Stories of the Walking Dead
Edited by Jeffrey Shanks
Skelos Press
2014
Reviewed by David Goudsward
Folklorist Elsie Parsons notes that as late as 1928 the term zombie was virtually unknown outside Haiti. That changed in 1929 when William Seabrook published a popular travel book on Haiti called The Magic Island. Although only one chapter covers the zombie, it was enough to attract the attention of the entertainment industry. Based on the material, Kenneth Webb's 1932 play Zombie opened on Broadway to no acclaim, closing within the month after 21 performances. By that time, the film White Zombie started filming. Bela Lugosi, still at the height of fame from Dracula, ensured the term entered the mainstream pop culture, and even Webster's Dictionary added the word in the 1935 edition.
Peter Dendle, a Professor of English at Penn State, makes an unfortunate error in his Zombie Movie Encyclopedia (2000) by declaring that compared to the other monsters that resonated with the public such vampires, werewolves and the Frankenstein Monster, "zombies, in fact, made the leap from mythology to cinema with almost no previous literary tradition." It seems Dr. Dendle didn't know where to look. Fortunately, Jeffrey Shanks knew exactly where to look.
Shanks went back to the classic pulp magazines and found that zombies were far more plentiful than Dendle would suggest, even if the word zombie wasn't specifically used. Zombies from the Pulps! It is a collection of 20 classic tales from such pulp magazines as Weird Tales and Thrilling Mysteries, many of which have never been reprinted. There are a couple of stories that might not be unexpected, such as Lovecraft's "Herbert West – Reanimator" and Henry S. Whitehead's "Jumbee," but the full gamut of the masters of the pulp era are here as well – Seabury Quinn, Manly Wade Wellman, Robert Howard, and Clark Ashton Smith. Of special note is the 1931 story, "Salt is Not for Slaves" by G.W. Hutter, the pen name of Garnett Weston, who would then write the screenplay for White Zombie.
Whether you're a fan of shamblers, runners or any type of walking dead, this is a must have on your shelf. In addition to a flawless selection of early zombie tales, Shanks, a noted historian and scholar of early 20th century popular culture and speculative fiction, has included an insightful overview of the development of the genre that everyone knows and fears. Just try not to trip when running for your life – it makes the zombies lazy.