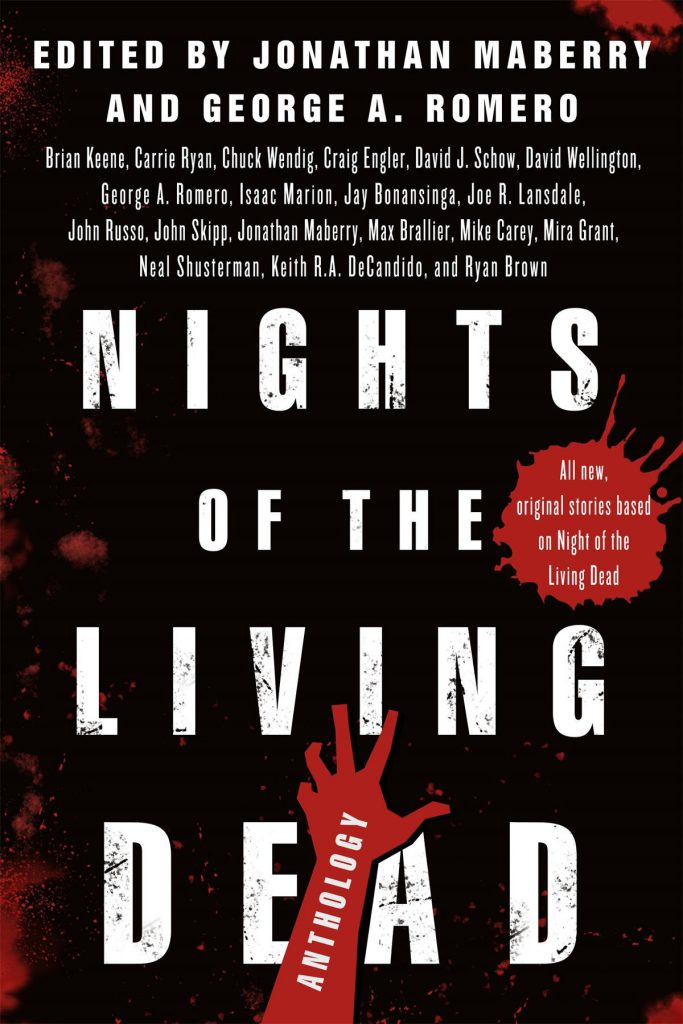 Nights of the Living Dead
Edited by Jonathan Maberry and George A. Romero
St. Martin's Griffin
August 13, 2017
Reviewed by Marvin P. Vernon
Filmmaker George A. Romero passed away on July 16th, 2017. To many people he was just another horror movie director, but his influence in pop culture is much more than that. He transformed how we saw a specific concept and embedded it permanently into our collective consciousness. To compare, Romero was to zombies what Bram Stoker was to vampires and we will never go back to our old perceptions again. Before Romero, a zombie was depicted as a person who was controlled by another person, usually a sorcerer or shaman. In many cases, the person wasn't even dead but one who lost all control of his mind and body to another. It wasn't the zombie we were scared of but the idea of the person who could make us into a zombie. Romero's seminal film Night of the Living Dead changed all that. The writer and director hated the term "zombie" for his creation. He called them ghouls, the dead rising to eat human flesh. But the term stuck and we never saw zombies in any other way after 1968. An entirely new spectrum entered our reality. It takes a genius to manage that and in this small part of pop culture, Romero was a genius. It is hard to overestimate the influence that Night of the Living Dead made on film and literature especially those who soaked in anything remotely related to horror.
The director's new take on the zombie mythology wasn't just in film. John Skipp and Craig Spector edited a seminal anthology called Book of the Dead which speculated through the minds of numerous authors what happened after that apocalyptic night. Through the decades and more recently, writers such as Brian Keene, Joe McKinney, and Robert Kirkman of Walking Dead fame added variations but still stayed in the path of Romero's ghoulish flesh eaters. Even literary figures with a big "L" like Joyce Carol Oates and Colin Whitehead offered their contributions. There was no going back
The anthology Nights of the Living Dead was one of George Romero's last projects and was edited in collaboration with Joe Maberry, himself no slouch when it comes to zombies and the post-apocalypse. It is a fitting note to Romero's career as it returns full circle to that one night in Pennsylvania when the dead started walking the earth and devouring flesh. It is comprised of 19 original short stories taking place on that same night and, for some stories, the next few days. The editor kept the authors in that framework with only a little poetic license mainly related to possible explanation of the events and some bending of the exact era (1968 or more recent?). The writers range from the stalwarts in the sub-genre like Brian Keene and Joe R. Lansdale to lesser-known but still immensely talented newcomers like Mira Grant and David Wellington. It even has two stories by George Romero and his co-writer for Night of the Living Dead, John Russo. There is the usual unevenness in an anthology like this but all the tales are quite good and none really miss the mark. Ironically it is the two stories by Romero and Russo that seem slightly out of place and a bit old fashioned. But the rest of the crew seem happy to stick to the formula yet give it a kick in the rear.
Of the more established names, Joe R. Lansdale comes through in the first tale which starts with a car race on the street and develops into a race for their lives. John Skipp's "Jimmy Ray Baxter's Last Best Day on Earth" is about a sociopathic man who sees the apocalypse as a slice of his type of heaven. Chuck Wendig's "Dead Run" turns the night into an examination of two brothers' dysfunctional bond. Jonathan Maberry's "Lone Gunman" is a harrowing story of survival. Of the newer writers, at least newer to me, there were quite a few impressive gems. In "A Dead Girl Named Sue" by Craig E. Engler, a local sheriff finds meaning in the disaster through an act of retribution. Mike Carey's "In That Quiet Earth" find a theme in the plot that is as moving and unique as you can expect from the one who wrote The Girl with All the Gifts. Finally, "Mercy Kill" by Ryan Brown has a distinct Crime Noir feel to its telling.
I'm not going to capsulize all 19 stories except to say each one of them gives their own individualistic lean to the basic premise that terrified so many viewers of Night of the Living Dead. The anthology works as a theme collection but may also be one of the best multiple author collections of this year. For that and as a tribute to George A. Romero, it deserving of every single star of a five-star rating and plenty more.