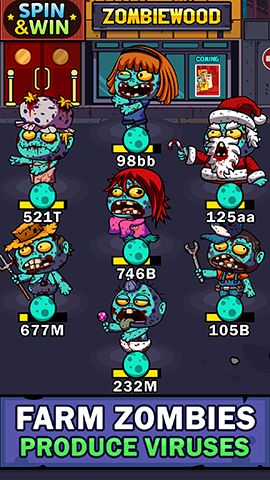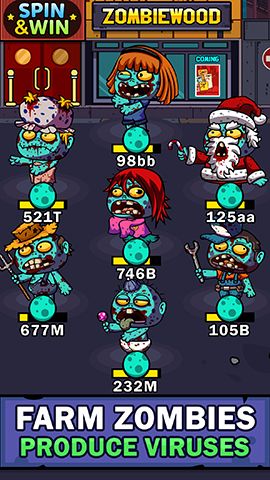 Rapid Turtle Games is excited to announce the release and immediate availability of Farming Dead an idle zombie game for iOS devices. The game is available for free on the App Store. Farm zombies for fun and profit in this relaxing idle simulation game!
Players start from the bottom with a cute zombie and with big dreams of achieving zombie domination. They need to tap n' swipe to collect viruses, spawn zombies, buy upgrades, and to repeat these steps. It's simple as that. There are many hilarious zombies to unlock and humorous upgrades to buy.
The more viruses are spent for upgrades the more viruses zombies produce. There's no progress without sacrifice, so players regularly need to sacrifice their zombies to keep gaining even more. They just need to chop the zombies' heads off and see how the production goes up! There are beautiful babes players can hire to boost the production, and cute pets, which will help a lot in conquering the world! To infect humans, cells are needed, which are extracted from zombies. Turn the extractor on and squeeze as many cells as possible from every zombie.
Game features:
FARM funny zombies and produce viruses
SIMPLE tap n' swipe to collect viruses; spend it on awesome upgrades… and profit!
PRODUCE viruses even when you are offline
OPEN ZOMBOXES to discover new zombies
DEFEND your zombies from commando attacks
REVIVE your killed zombies
SLICE some hams to feed the zombies; they won't produce viruses on an empty stomach, huh…
EXTRACT infectious cells from zombies and infect the world of humans
UNLOCK cute pets… and find out their purpose
SACRIFICE your zombies and spend it on new upgrades, there's no progress without sacrifice!
MIX some bloody ingredients like brains, worms, and blood to make delicious cocktails and unlock unseen types of zombies
AMUSE zombies with a charming belly dancer or serve fresh popcorn for profit
HIRE BEAUTIFUL BABES for mega boosts
VISIT ZOMBIEWOOD and be rewarded
SPIN & WIN for exclusive bonuses
TONS OF ACHIEVEMENTS for you to discover
EASY TO PLAY for the whole family
Device Requirements:
iPhone, iPod touch or iPad
Requires iOS 8 or later
Universal Application
Size: 56 MB
Pricing and Availability:
Farming Dead is available for iPhone, iPod touch, and iPad as a universal application for free worldwide exclusively through the App Store in the Games category.
App Store Link:
https://itunes.apple.com/app/farming-dead/id1222251060
App Icon:
http://rapidturtlegames.com/press/farmingdead_icon.jpg
Website: